British Virgin Islands Yacht Charter Guide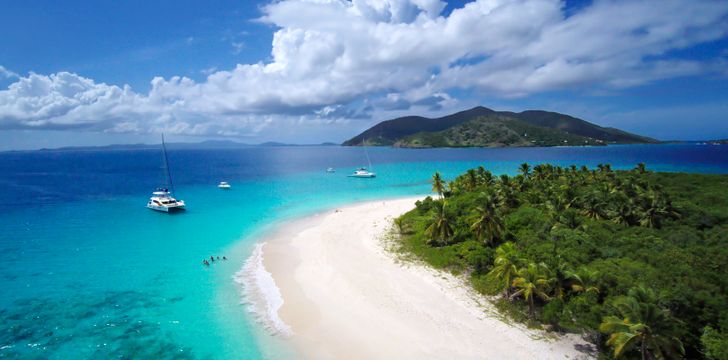 Charter a luxury yacht in the British Virgin Islands and discover Tortola, Virgin Gorda, Jost Van Dyke, Cooper and Peter Island
Crewed Catamarans | Crewed Motor Yachts | Crewed Sailing Yachts | Bareboat Sailboats | Bareboat Catamarans
BVI Destinations | Getting There | Cuisine | Must Do's | Water Sports | Climate | History | Must Do's
BVI Motor Itinerary | BVI Crewed Catamaran Itinerary | BVI Bareboat Itinerary
---
The British Virgin Islands are the jewels in the crown of Caribbean yachting. More commonly known as the BVI, this island chain has all of the ingredients for a perfect Caribbean sailing holiday: consistent trade winds, gorgeous islands, a mixture of deserted white-sand beaches, luxury hotels, shipwrecks, beach party towns and a charm that perfectly fits the tranquillity of sailing.
Whether you want to cruise around the Virgin Islands on a crewed motor yacht, a crewed catamaran or a bareboat sailboat, our team of Charter Experts review the yachts and visit the local Caribbean yachting hotspots each year to provide local insights and recommendations. We are the first port of call for planning a bespoke itinerary for your British Virgin Islands vacation.
---
Our selection of BVI Charter Yachts
---
BVI Chartering and Boat Vacations
Boatbookings has over 17 years of experience organizing successful charters in the BVI. Our brokers know every yacht and crew personally so that you are sure to step onboard the ideal boat tailored to your desires. Check out our BVI blogs for further inspiration.
A typical yacht charter starts in either St Thomas (USVI) or Tortola (BVI) and visits a new island every day, but there's no stopping you if you decide to spend a few more days at an island you particularly like! We have several sample itineraries for crewed catamarans, motor yachts and sailing boats but we will tailor your exact route around your preferences.
---
BVI Catamaran Yacht Charter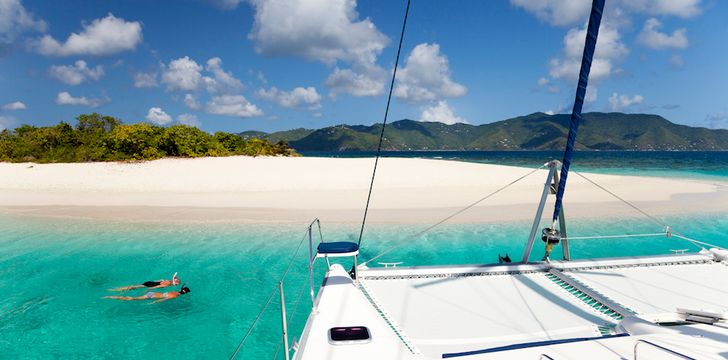 Sailing the Virgin Islands on a BVI crewed catamaran is about hopping between the islands of your choice and taking advantage of the unique diving areas, beach bars and restaurants. Nearly all charters start and end in Tortola, the largest of the islands, as that is where all the key marinas are located. Your private catamaran is ideal to explore the mostly uninhabited and unspoiled isles of the BVI in unsurpassed comfort, style, and stability — most importantly, it will allow you to get extremely close to shore.
BVI CREWED CATAMARANS Crewed Catamaran Itinerary
---
Luxury Motor Yacht Charter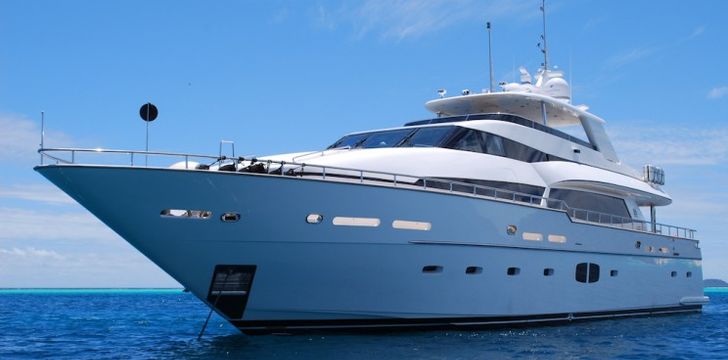 The British Virgin Islands are a stress-free haven, ideal for a luxury BVI motor yacht charter experience. With a truly laid-back, warm and friendly environment, there is no better way to explore these islands than onboard your crewed motor yacht. Bringing you speed, comfort, and opulence - a motor yacht is an incredible way to leave your worries behind. Allow the chef onboard to delight you with culinary masterpieces of locally sourced delicacies such as lobster complemented by exquisite cocktails.
Revel in the sun on the spacious deck of your luxurious boat in privacy or make the most of the full arsenal of water toys available on board. The impeccable service, generous space, stability, privacy and exhilarating views provided by your luxury motor yacht will exceed your every expectation.
BVI LUXURY MOTOR YACHTS Crewed Motor Yacht Itinerary
---
BVI Crewed Sailing Yacht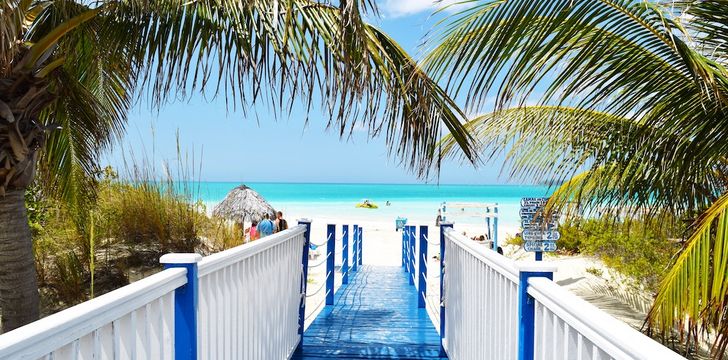 How about sailing the BVI in ultimate tranquillity on board your very own private crewed sailing yacht? The serenity, eco-friendliness, and authenticity offered by a sailing yacht provide fortunate charterers with an unsurpassable experience of the BVI. Enjoy the sun rays on a timelessly beautiful vessel and retreat into exquisitely decorated staterooms at the end of the day. Uninhibited views of the lush green vistas of the BVI are best enjoyed from the deck of a sailing yacht. Also, of course, make the most of an inexhaustible range of water toys on board!
BVI SAILING YACHTS Sailing Itinerary
---
BVI Bareboat Monohull Sailboats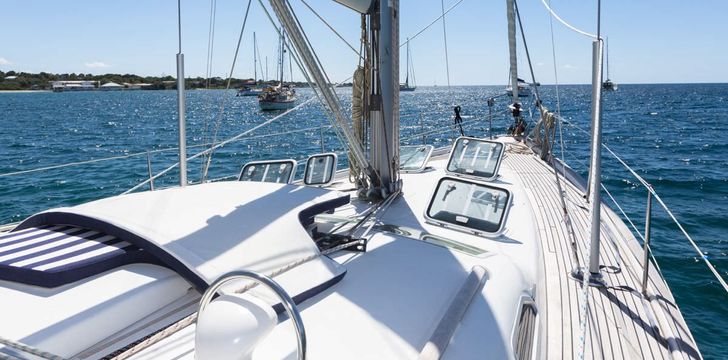 Perhaps you're a sailing pro, or maybe you've just got an adventurous bone in your body – either way, bareboat monohull sailboat is an unforgettable experience. A bareboat monohull in the BVI's allows you to create your bespoke itinerary and to explore the islands on your very own sailing boat. You can go where you want, when you want, how you want. What's more, with a unique sense of control, your holiday is in the palm of your hand. Get behind the wheel and set sail for some of the BVI's more hidden and forgotten treasures like the explorers of old, before heading ashore to try out the very best local cuisine. The options are endless with a bareboat monohull as the world is your Caribbean oyster! You can also add a skipper and a hostess for the ultimate BVI experience.
BVI BAREBOAT MONOHULLS Monohull Itinerary
---
BVI Bareboat Catamarans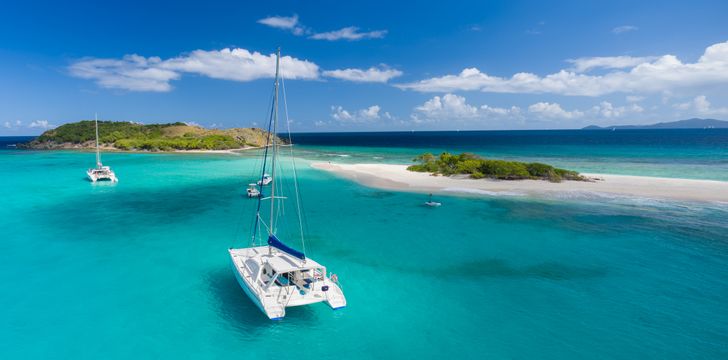 Chartering a
bareboat catamaran
in the British Virgin Islands will offer a unique, luxurious experience! With sand bars and shallow turquoise waters, get up close and personal with that uninhabited island of your dreams! Start your charter in one of the main towns such as Tortola or Virgin Gorda and set sails for that anchorage of your dreams! Jump off the back of your bareboat catamaran into the warm waters below, snorkel around the reefs and experience what sailing really has to offer. Catamarans boast large living volumes, which create a comfortable charter for all guests. Most Bareboat catamarans offer 4 well-appointed double cabins, accomodating up to 8 guests in comfort! Utilise the forward seating area, and have a fresh, al fresco lunch on her aft deck!
BVI Charter Destinations
Tortola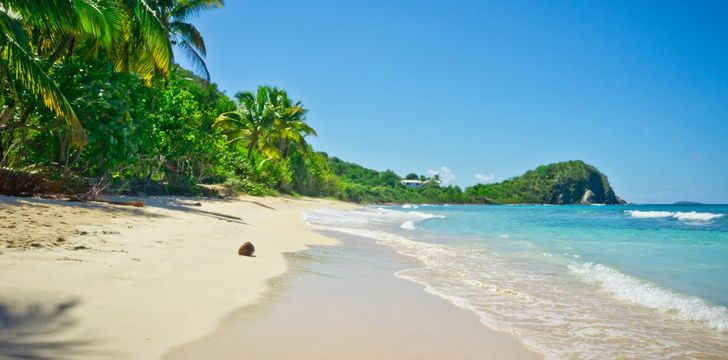 Tortola is the largest and most populated island in the BVI archipelago and is, therefore, the common starting point for boat charters. Access to Road Town is either by ferry from the neighbouring US Virgin Islands or by bridge from the airport on adjoining Beef Island. Aside from Road Town, the other main port on Tortola is Soper's Hole, a pretty colonial port town brimming with charm, boasting key marinas and a buzzing atmosphere.
Tortola has some excellent beaches, the nicest of which are located along the north side of the island, where quiet coves and bays are fringed with soft, white sands. You'll enjoy the picturesque Cane Garden Bay or Long Bay with its mile-long beach. North of Road Town you'll find Trunk Bay beach, probably the most deserted on the island.
Tortola Charter Guide Enquire Today
Jost Van Dyke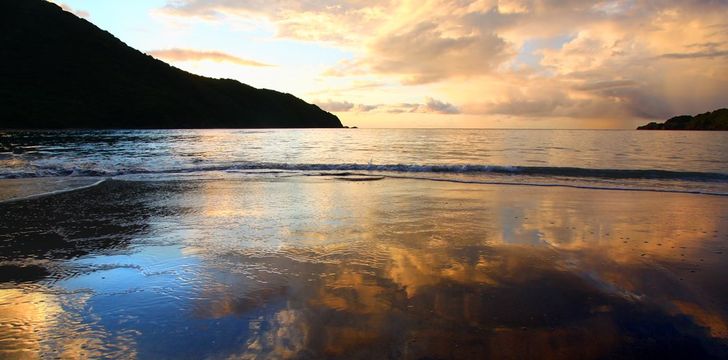 Jost Van Dyke is a relaxed island known worldwide for its casual lifestyle, protected anchorages, fine beaches, lobster feasts, and beachfront restaurants and bars. It is home to Foxy's, a beach bar and restaurant renowned for its beach parties (especially on New Year's Eve) and to the Soggy Dollar Bar, rated as one of the top beach bars in the world.
Jost Van Dyke Charter Guide Enquire Today
Anegada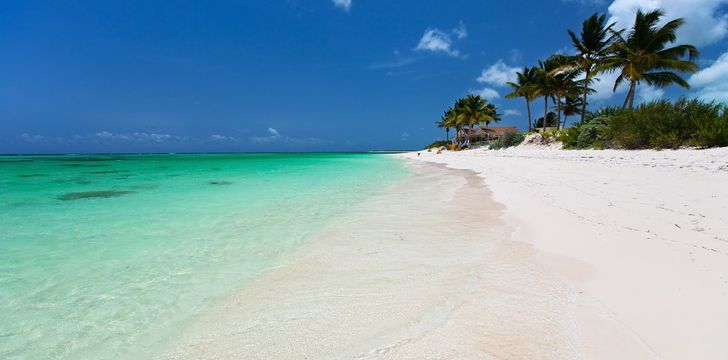 Anegada is the second largest of the British Virgin Islands but differs in that it is made from coral rather than volcanic rock with the highest point of just 26 feet above sea level. It is an island that is worth visiting for its beaches, a tranquil atmosphere and its barbecues on the beach. The island is seen as a mecca for SCUBA diving, as there are numerous historic shipwrecks on the reefs, as well as a great variety of wildlife to be found on the island including turtles, pelicans, the endangered Anegada iguana, and flamingoes. It is worth a trip if you're looking for a quiet beach day, with a few piña coladas at a beach bar and a big lobster roast at night!
Anegada Charter Guide Enquire Today
Virgin Gorda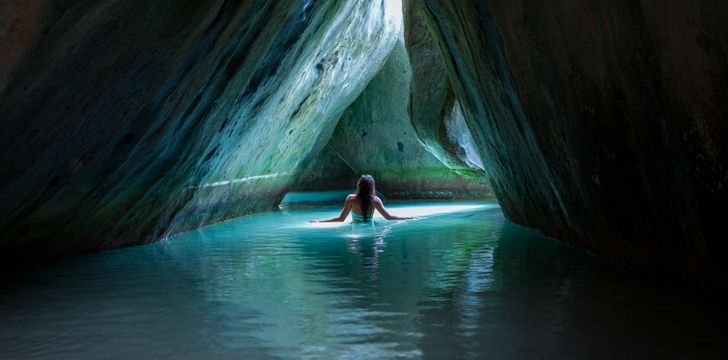 Virgin Gorda is the third-largest of the islands comprising the BVI. Virgin Gorda's major attraction is "The Baths" located on the southern end of the island. The Baths are formed by several granite boulders strewn on the beach, forming scenic waterways and caves that are open to the sea. Swimming and snorkelling are the other main attractions here.
Popular Restaurants
CocoMaya Restaurant – Spanish Town
Hog Heaven Bar & Restaurant – North Sound
Jumbies Beach Bar & The Cove – Leverick Bay
Mad Dog Restaurant – The Baths
Oil Nut Bay Beach Club Restaurant – Oil Nut Bay
Reef Restaurant at Fischer's Cove – Spanish Town
Sugarcane Restaurant – Nail Bay
The Bath And Turtle/Chez Bamboo Restaurant – Spanish Town
The Restaurant at Leverick Bay – North Sound
Top of the Baths Restaurant & Bar – The Baths
Village Cafe & Restaurant – Spanish Town
Our Charter Guide to Virgin Gorda Book Now
---
How To Get There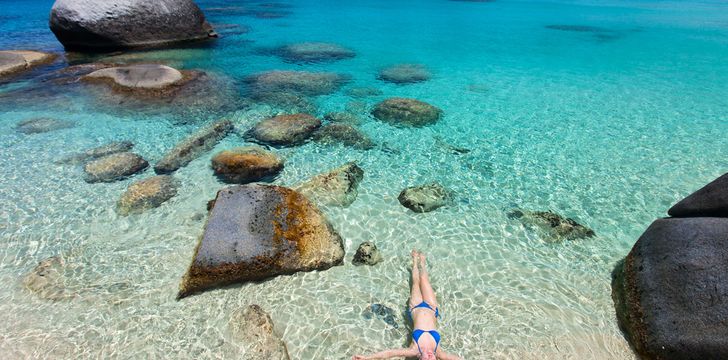 Flying from the U.S.A and Canada
- Fly to either Puerto Rico or Saint Thomas
- From Puerto Rico, take a connecting flight to Beef Island Airport
- From Saint Thomas, take a ferry across to Tortola. A private ferry is quite fast and not overly expensive.
- From Beef Island Airport, take a short taxi ride across the bridge to Tortola
From October 2016, you will be able to fly directly from Miami to Beef Island airport, following a new partnership between the British Virgin Island's Government and BVI Airways. Providing a daily service, the journey will take roughly 2.5 hours, with 2-3 flights each day in high season.
Flying from the UK
- Take a direct flight to Antigua or Puerto Rico
- Take a connecting flight to Beef Island Airport
- Then a short taxi ride will take you across to Tortola over the Queen Elizabeth Bridge
For more information regarding UK flights, both British Airways and Virgin Atlantic operate a scheduled service throughout the week.
Flying from the rest of Europe
- Fly to Saint Martin, San Juan, Barbados, Martinique or Antigua
- Take a connecting flight to Beef Island Airport
- Take a taxi from Beef Island Airport to Tortola
Note that you must have a passport and go through passport control to get to the BVI. For your planning purposes, we have included a St Thomas to Tortola Ferry Schedule page.
New Visa Exemption Policy
- Effective from 1 September 2016, the British Virgin Islands' new Visa Exemption Policy will go into effect allowing nationals of a country that might otherwise be required to have a visa to enter the BVI, but who already hold a valid visa to enter the UK, the US, or Canada, to visit the BVI for tourism, business, work or other related matters.
- The UK, US or Canadian visas must have at least 6 months of validity before travelling to the BVI.
- The exemption applies to visits to the BVI of 6 months or less, and affects nationals of around 93 different nations, mainly in Asia and Africa.
---
BVI Cuisine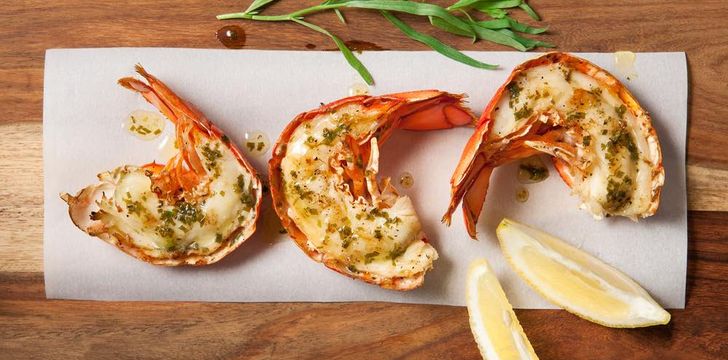 The British Virgin Islands boast an array of eclectic yet laid-back waterfront restaurants. With stunning views and food made of fresh local produce - the BVI is deservedly a foodie's sanctuary. The cuisine in the BVI has been strongly influenced by West Africa, Europe, and America.
Enjoy some of the world's best seafood (especially the famed BVI lobster) paired with delightful cocktails. Venues such as Saba Rock, Foxy's and the Scrub Island Resort create the perfect ambience to go with your delicious meal, perfectly encapsulating what the BVI is all about.
---
BVI "Must-Do's"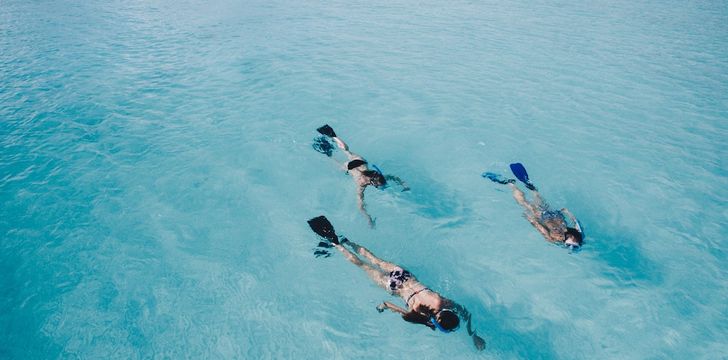 1 - Soggy Dollar Bar, Jost Van Dyke
It's not just all about the famous 'Original Painkiller' rum cocktail as the Soggy Dollar Bar also boasts a superb breakfast lunch and dinner menu.
2 - The Baths, Virgin Gorda
Virgin Gorda's mile of scattered boulders is an inimitable sight utterly unique to the BVI, with the National Park becoming a hotspot for snorkelling and swimming.
3 - Foxy's - Jost Van Dyke
Having recently celebrated its 78th birthday, Foxy's has become part of the furniture on Jost Van Dyke with a-la-carte dining and its rum, all in true Caribbean style.
4 - Deadman's Beach, Peter Island
Deadman's Beach's crescent of fine white sand is truly one of the most striking beaches anywhere and the bay has plenty of turtles to swim with.
5 - Wreck of the Rhone, Salt Island
The tragedy of an 1867 hurricane has turned into a 21st-century marvel as the wreck of RMS Rhone just off Salt Island has become a superb national park and a popular site for diving.
6 - Sandy Spit
The real-life materialization of that cartoon desert island makes Sandy Spit almost legendary. An uninhabited circle of fine white sand encloses a small patch of foliage to create a true BVI wonder.
7 - Grilled Lobster on Anegada
Lobster on Anegada is so celebrated it has earned itself its festival, with November 2016 marking its fourth appearance as numerous top quality restaurants and bars dish up their speciality to the sound of Caribbean bands and dancers.
8 - Oil Nut Bay, Virgin Gorda
The extraordinary waterfront resort offers a spectacular pool, watersports, and a superb restaurant to create a luxury setting on the island of Virgin Gorda.
9 - The Indians and the Caves - Norman Island
Two of the best-known snorkelling spots in the BVI combine near Norman Island, the alleged inspiration for the Treasure Island tale. The rock formations, coated in colourful fish and marine life, provide an unforgettable setting for some exploration.
10 - Willy T's, Norman Island --> Peter Island
Willy T's is the quintessential floating bar/restaurant, originally on the 18th century William Thornton. If you're adventurous, you may get a free t-shirt, but it requires a dive off the deck.
TOP ATTRACTIONS IN THE BVI Book Now
---
BVI Water Sports, Diving and Activities
The Kodiak Queen - Trailer from Rob Sorrenti on Vimeo.
Due to the natural trade winds, cerulean waters and stunning anchorages, the BVI are a water sports paradise. Whether you want to dip your toe, dive straight in or discover your surroundings on top of the water, our BVI charter yachts selection has something for everyone. Check out 'The Kodiak Queen', the latest addition to the magical diving available throughout the British Virgin Islands.
BVI DIVING AND WATER SPORTS GUIDE Contact a Broker
---
BVI Climate and Weather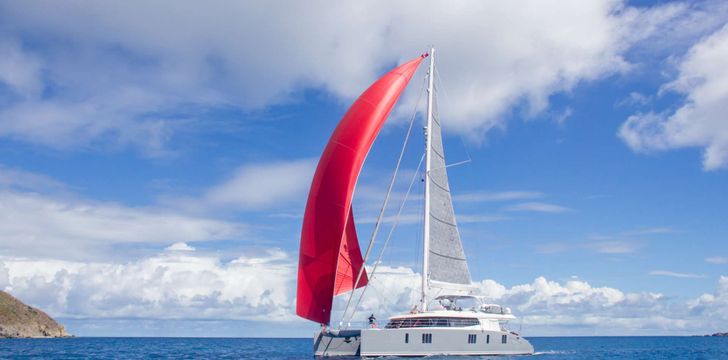 The BVI climate is nearly ideal for all types of yachting and water sports. Each day normally brings periods of clear blue skies and a few puffy clouds. The BVI features wonderfully consistent daily trade winds - usually from the East, ESE or ENE at 15-20 knots, rising to 25 –30 during the 'Christmas Winds".
The BVI has a sub-tropical climate with temperatures that range between 77-85° F (25-29° C). Temperatures usually drop by 10° F (6 °C) at night.
---
History of the BVI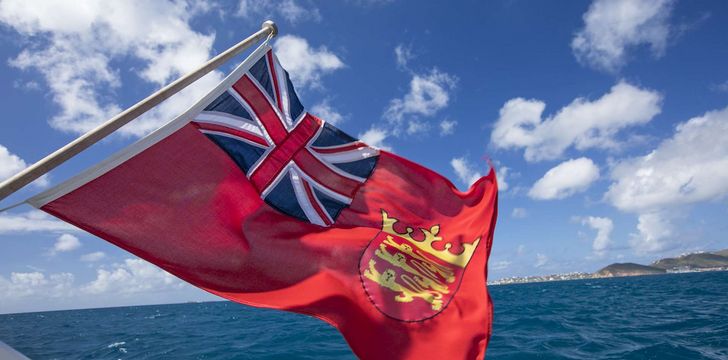 The British Virgin Islands was initially populated by the Ciboney Indians who arrived from the Americas. A few hundred years later, the Arawak Indians arrived from South America. The Arawaks peacefully inhabited the islands until the arrival of the fierce, aggressive and even cannibalistic Carib Indians from South America in approximately 1400.
Christopher Columbus "discovered" the islands in 1493 on his second voyage across the Atlantic. Virgin Gorda was named so by Columbus because he thought the island resembled a reclining woman with a large belly.
Although the islands were claimed as a Spanish territory, it was French traders who originally made the first settlement. The Spaniards ultimately drove them off the islands but the French sought revenge and began raiding the Spanish settlements - thus giving rise to the Buccaneer Pirate tradition. There are many tales and reminders of pirates throughout the BVI, including the island of Dead Chest, where Blackbeard left behind 15 of his pirates as punishment providing only a bottle of Rum. Thus arose the song "15 men on Dead (man's) chest, yo ho ho and a bottle of rum", from R.L. Stevenson's Treasure Island.
This tradition continued until the defeat of the Spanish Armada. The Sir Francis Drake Channel is named after the famous British Commander and Explorer who attacked the Spanish in 1595.
The islands were claimed by England as early as 1628, but there were no true British settlements until 1666. The islands were a British Colony as part of the Leeward Islands from 1872 until 1956 when the British Virgin Islands became a colony. The BVI remains under British control today and is largely a national park.
THE HISTORY OF THE WRECKS Contact Us
---
Our BVI Charter Yachts
Our incredible selection of over 200 charter boats in the BVI means that we will be able to find the ideal yacht for you. Whether you'd like to experience the BVI on a catamaran, sailing yacht or a superyacht, we will find and organize it for you.
We regularly inspect the boats and personally know the crews. Perhaps you've already been to the BVI and want to try something new? If you loved the Caribbean why not have a look at our other destinations close by such as St Martin or St Barths or maybe the Bahamas if you want a similar beach paradise.
Our BVI Crewed Yachts Suggest the Right Yacht for Me
Our BVI Posts and News Articles - insider's BVI information | BVI Charter Slideshow - experience a Charter in the BVI
---
Our Caribbean Charter Guides: The Windward Islands | Antigua | Grenada | Guadeloupe | Martinique | Spanish Virgin Islands | St Barths | Anguilla | St Martin/Maarten | St Lucia | St Vincent and the Grenadines | US Virgin Islands - St Thomas, St John, St Croix
Other Articles of Interest
Charter destinations